Whistling Frog Tile Company
A tradition in tile for over 30 years.
Whistling Frog Tile Company is a collaboration of two artists: Rick Pruckler & Tonya Lutz. Our hands are on the work from start to finish. Read on for that 30 year journey:
Whistling Frog was founded in 1987 by Rick Pruckler. Creative by nature, he was involved in tile projects and installation pieces, like the People Mover murals in Detroit with Pewabic and the Michigan Welcome Center mural at the Ambassador Bridge with Hubert Massey, as well as years of instructing students in the art of ceramics. Additionally, he had the experience of hand-crafting the look and feel of the contemporary vase designs and glaze formulas used today by Pewabic Pottery in Detroit. After this, Rick knew he wanted to create a place where he could allow his artistic expertise to evolve unhindered. Thus, Whistling Frog Tile began.
With this new-found freedom to create, designs came to life, incorporating elements of nature, traditional technique, and beautiful contrast. The architectural tile work was equally striking, utilizing techniques, custom glaze formulas, and unique design elements to create aesthetically beautiful spaces and inspire the senses.
In 2011, Rick partnered with Tonya Lutz, a graduate of WSU, BFA with honors. A sculptor by nature, she was just what the company needed for the next step in its artistic evolution. The addition of her work ethic and original perspective allowed Whistling Frog's tile line to expand even further. On the business side, she handles the admin, on the artistic side, she introduced tile narratives featuring woodland creatures, cats, & dogs. The Destination tile series continue to be an important endeavor for her. Feeling the need to have each tile make a difference in the world in addition to the delight they bring, she instituted the Saving Lives, Saving Lakes policy. Now, Whistling Frog helps preserve our natural world, with the sale of each and every tile, like a business should.
Today, Rick and Tonya are two artists who enjoy their work. Every aspect of the business and art is accomplished by their hands. For them, creating tile is more than a process; it's a passion and a joy. They are the designers, sculptors and makers caring about every step, from your email that gets answered to the happy little tile package that arrives on your doorstep.
Rick's extensive experience formulating custom glazes creates a one-of-a-kind color palette. It features fresh, bright, beautiful colors and finishes. He has the technical knowledge for website and installation design to boot.
All clay and glazes are crafted using sustainable practices. Packing supplies & glaze containers are up-cycled for minimal environmental impact, and as much surplus clay and water as possible are conserved and recycled. If a tile is broken, even these are up-cycled. Find them tucked into public art murals around Detroit.
Whistling Frog Tile studio began in Ferndale, Michigan. Ferndale is a caring, festive, and vibrant little community hugging the border of Detroit. Since then, each hand crafted piece is now made in the new studio/ storefront up at Torch Lake or in Ferndale, depending on where we are at the moment. All work is still made by either Rick or Tonya.
Rick and Tonya value promoting appreciation and awareness for the environment, native wildflowers and plants, endangered species, historical places, and communities through their unique designs. By celebrating and elevating their subject's importance through art, they create pieces with meaning and vitality. This level of passion and dedication provides the essence that goes into each of Whistling Frog Tile's beautiful handmade work.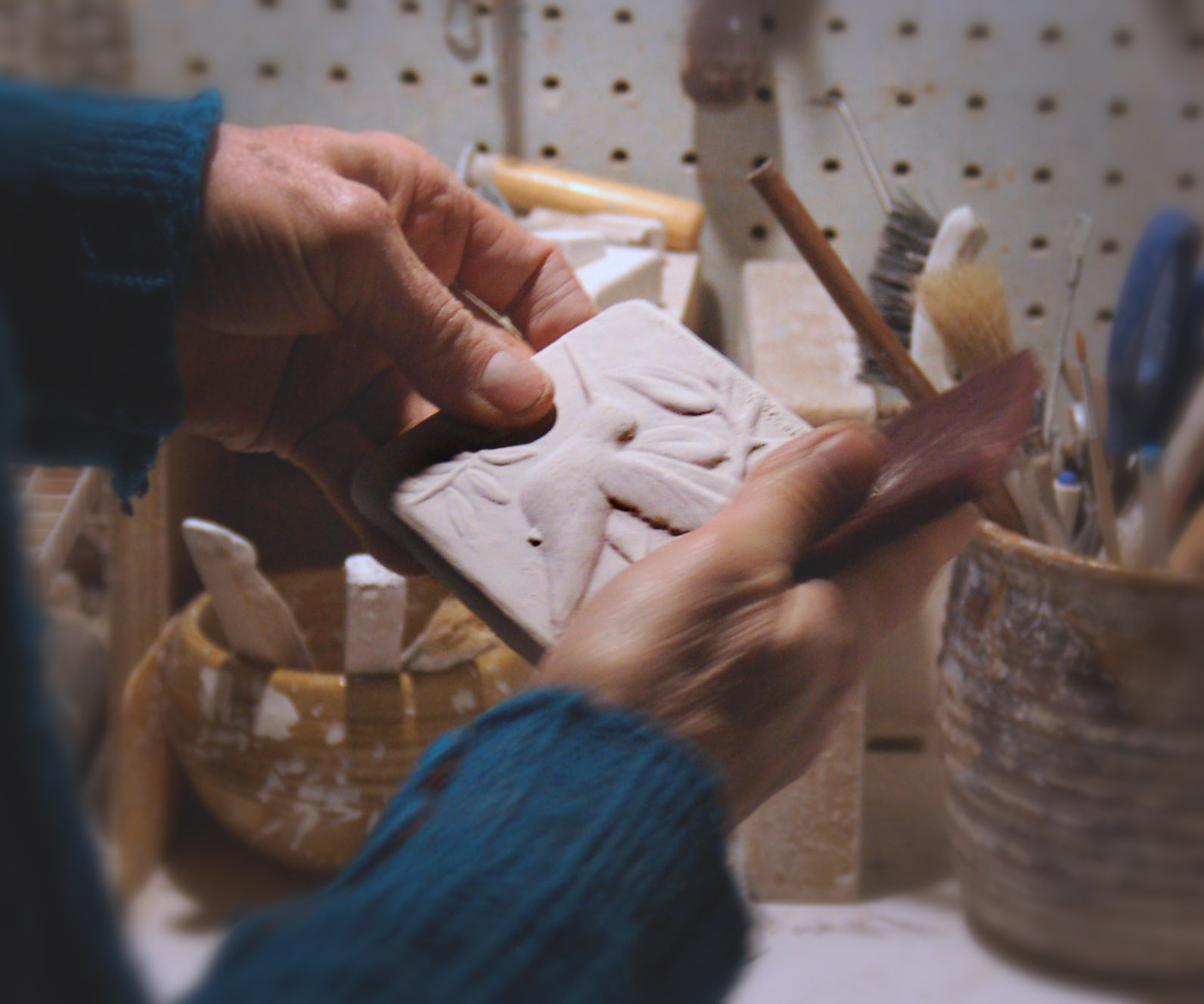 Whistling Frog Tile Company: The Story Behind The Name
While relaxing on the beach in Bermuda, around the year 1998, Rick Pruckler was thinking about what to name his tile company. He had many ideas, but what would convey the feel of his original designs, the fact that he makes all his own glazes and clay, and made each tile by hand in his studio?
The gentle beach breeze made the naming process enjoyable, save for some persistent jungle noises. However, he had a hard time trying to find the right words. Rick had already started making tile and selling under the name 'Tapas' pottery. He chose this name because of its East Indian roots and it meant literally, 'fire of transformation.' Spanish cuisine was becoming more widely enjoyed then in the '90's, so Rick watched the waves rolls in, knowing the name 'Tapas' wouldn't last.
Birds chirped their condolences from the palms. He figured this was for the best, since the Indian term refers to a spiritual transformation. Lots of difficulty could be brought on in the kiln room by asking for this, and he wanted the whole process to be more like a song. Speaking of song, the jungle sounds increased, causing his brainstorming session to be interrupted. As the sun descended and a fiery sunset crept across the sky, Rick was thinking that 'Burnt Clay' might be a good name. The darkened trees were alive with the piercing sound of animal calls. He tried to concentrate, scratched his head, and covered his ears. Late '80's terms kept bubbling up, vying for attention: 'Rampant' tile? 'Emerge' Tile? What were these names even saying? And for the love of all, what is that confounded sound?
A mildly curious local inhabitant had been watching his distress from afar on the beach. He called out in the twilight, "Whistling frogs… they're okay!"
And on the advice of that kind and helpful man, Rick had the name of his company.